Idylle und Skandal / Kunstbahnhof Klagenfurt
Ein Geschichtsvermittlungsprojekt mit Lehrlingen, dem Robert Musil Literaturmuseum und Trick-my-Film, welches im Rahmen des Programms "Geschichte gemeinsam verhandeln" als Beitrag zum Gedenk- und Erinnerungsjahr 2018 stattfindet, koordiniert von KulturKontakt Austria (aus Mitteln des BMBWF).
In derselben Weise, wie die Fresken am Klagenfurter Bahnhof im Jahr 1956 einen Skandal provozierten, indem sie tradierte Muster aufbrachen, sind die am Projekt teilnehmenden Jugendlichen aufgefordert, bestehende Werte kritisch zu hinterfragen, um Geschichte jenseits der Fakten zu verstehen.

Projektpräsentation: 28. Mai 2018, 14h
Robert Musil Literaturmuseum, Bahnhofstraße 50, 9020 Klagenfurt am Wörthersee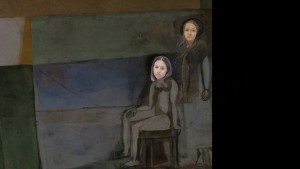 Idyll and scandal / Railway station Klagenfurt (A) May 2018
Sight-specific history-education with apprentices. A collaboration with the Robert-Musil-Museum,
coordinated by KulturKontakt Austria and financed by the Austrian Federal Ministry of Education, Science and Research.

The same way as the frescos provoked a scandal, in 1956, by demanding breaking up habitual traditions, our students are asked to re-question consisting values and create critical points of views in order to understand history beyond facts.
***
Idylle und Skandal / Spiritualität versus Hedonismus Mai / Juni 2018
Eine filmische Begegnung von Lehrlingen und Mönchen im Stift Geras (NÖ).
Idyll and scandal / Spirituality versus hedonism May/June 2018
An encounter between apprentices and monks inside the Roman-Catholic convent of Geras (A).
***
Wonderwoman
Schüler*innen der NMS Glasergasse nehmen ein Semester lang am Modul "Film" teil. Die Teilnehmer*innen haben ihre Wurzeln in (süd)osteuropäischen wie arabisch- und persischsprachigen Ländern, einige von ihnen leben schon lange in Wien, einige sind vor Kurzem hier angekommen. Eine Filmproduktion soll den Schüler*innen die Möglichkeit geben, sich ihren eigenen Vorstellungswelten wie jenen der anderen mittels Bildern, Sprachen, Sprechen, Bewegung und möglichen körperlichen Transformationen zu nähern.
Das Projekt findet im Rahmen von "culture connected" statt, einer österreichweiten Initiative des Bundesministeriums für Bildung, Wissenschaft und Forschung.
Projektpräsentation: 23.Mai 2018, NMS Glasergasse
Wonderwoman
For one semester Trick-my-Film collaborates with pupils of the New Secondary School Glasergasse in Vienna. The participants have South-Eastern-European, Arabic, Persian and Austrian roots, some of them live in Vienna since a long time, some of them have arrived recently. Together they are involved into speaking, acting, drawing, creating pictures in order to make a film.
***
29. & 30. Juni 2018, Idylle und Skandal, Vortrag bei der
29th & 30th of June 2018, Idyll and scandal, paper at
London Conference in Critical Thought, University of Westminster (UK)
londoncritical.org
***
19. – 21. Juni 2018, Das Intime und das Öffentliche, Vortrag bei
19th – 21st of June 2018, The intimate and the public, paper at
Dramapädagogiktage Konstanz (D) / Drama in Education Days Konstanz (D)
dramapaedagogik.de
***
3. & 4. September 2018, Das Intime und das Öffentliche, Vortrag bei
3rd & 4th of September 2018,The intimate and the public, paper at
BoundaryCrossingConference, University of Winchester (UK)
boundary-crossing-conference

Foto oben: Kunstbahnhof Klagenfurt, Fresken von Giselbert Hoke 1956, (Bearbeitet)